The Geisha Facial®
From an ancient Japanese tradition…Bird Poop Facials!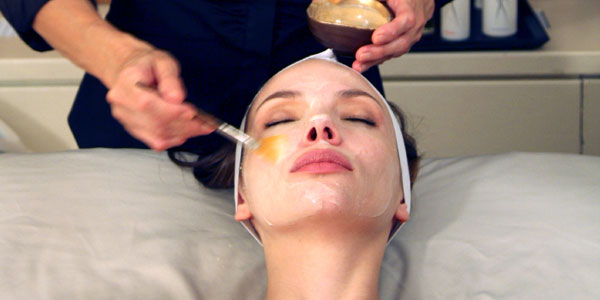 The Geisha Facial® at Shizuka New York Day Spa uses Japanese nightingale droppings
NEW YORK, New York – At NYC's Shizuka New York Day Spa (7 W 51st Street), celebrity facialist Shizuka Bernstein has introduced her latest innovation, a facial treatment that unlocks the secrets of Geisha beauty. The Geisha Facial® ($180, 60 min.), a.k.a. Bird Poop Facial, uses traditional and natural Japanese ingredients to soften, brighten and nourish the facial complexion.  The most crucial ingredient in these unique facials is uguisu no fun(powdered nightingale droppings), once a secret known only to traditional kabukiactors and the Geisha themselves.
| | |
| --- | --- |
| | |
| | Used in every Geisha Facial®, the Shizuka New York Skincare System incorporates natural Japanese ingredients such as green tea, sake, rice bran and pearl protein to brighten and cleanse the skin. |
Beautiful, educated and skilled in the arts of music and dance, Geisha were the true renaissance women of ancient Japanese society. Refined in movement and appearance, Geisha were known for their iconic porcelain complexion-clear, unblemished and pale as a camellia blossom. However, their beautiful appearance came at a price as the lead and zinc in their face powder caused chronic skin care problems until the discovery of a unique remedy. Geishas found that regular nightingale droppings facials could be used not only to remove makeup but to brighten, heal and retexturize the skin due to their natural enzymes and guanine, which imparts a pearly luster to the skin.
At NYC's Shizuka New York Day Spa this ancient and prized Geisha beauty secret is artfully revived through the Geisha Facial®. Uguisu no Fun is perfectly safe to use on the facial skin, sanitized through exposure to ultraviolet light before being milled to a fine powder. During the facial, Shizuka mixes the nightingale droppings with delicate Japanese rice bran to enhance its inherent exfoliating and facial  lightening properties.
Cleansing and light pore extraction using her all-natural skin care line (the Shizuka New York Skin Care System) further refines skin texture, and the Geisha Facial® is completed with a hydrating camelia oil facial massage and a refreshing antioxidant Green Tea Collagen Mask.
As with all facials at Shizuka New York Day Spa, the Geisha Facial® concludes with service of gourmet Japanese tea and snacks in the Tranquility Lounge. This innovative NYC Facial modernizes the beauty rituals of the Geisha, making them accessible to everyone.
Our Bird Poop Facial Video via YouTube
Bird Poop Facial FAQ
Why Bird Poop?
Shizuka remembered hearing about the ancient Geishas' uguisu no fun facials from her mother while growing up in Tokyo. Japanese women have always prized pale, porcelain complexions and Shizuka's mother always stressed proper skincare and limiting sun exposure. When Shizuka was researching new and interesting facial ingredients for her NYC spa, she thought back to her childhood and her mother's story about how geisha used bird poop facials to keep their skin clear and porcelain.
Is uguisu no fun facial safe/sanitary to use on my face?
Yes, the uguisu no fun used in Shzuka's Geisha Facial®s is professionally sanitized under UV light and powdered before being applied to the face in our NYC spa.
Does the bird poop facial mask smell?
Although the uguisu no fun has a slight musky aroma on its own, Shizuka's special bird poop facial mask formulation neutralizes this aroma, leaving a mild "organic" smell from the rice bran.
$180 for a bird poop facial?
The Geisha Facial® is a full facial treatment that includes thorough cleansing of the face with Shizuka NY's Skin Care System, pore extraction, light massage and an antioxidant collagen facial mask in addition to the nightingale droppings mask.
Selected Press Features for the Geisha "Bird Poop" Facial
Good Morning America Health

The Geisha "Bird Poop" Facial with nightingale droppings is on Good Morning America Health on July 8, 2010, airing at 2 & 5:30pm…check your local listings for details! Tanya Rivero and Beverly Hills dermatologist Dr. Susan Evans explore some of the more bizarre beauty rituals out there including nightingale poo facials, fish pedicures, and leech therapy!
People Magazine

People Magazine's profile of Spa Week includes the Geisha Facial®, a favorite celebrity skin care treatment of Spice Girl Victoria Beckham, and other favorite celebrity spa treatments of Anne Hathaway and Lauren Conrad.
The Today Show (NBC)

Celebrity facialist Shizuka Bernstein visits the set of The Today Show to give Kathie Lee Gifford and Hoda Kotb surprise bird poop facials with some hilarious results! [VIDEO]
The View (ABC)

The ladies of the View get the scoop on some bizarre spa treatments including Shizuka New York Day Spa's Geisha Facial®, the infamous fish pedicure, snake massage, and beer facials. Watch Sherri Shepherd writhe in her seat with fish nibbling at her feet and a bird poop facial on her face! [VIDEO]
PerezHilton.com

Celebrity gossip maven Perez Hilton pooh-pooh's Bird Poop Facials from celebrity facialist Shizuka Bernstein, and Victoria Beckham's Geisha Facial®s craze.
The Big Idea with Donny Deutsch (CNBC)

Donny Deutsch looks into the big idea behind Geisha Facial®s, a beauty trend that started in NYC and has circled the globe. [VIDEO]
New York Magazine

New York Magazine broke the news of a unique new facial trend taking flight in Manhattan, the Bird Poop Facial!  New York Magazine has also featured Shizuka New York Day Spa many times as Best Facial NYC, and honoring skin care guru Shizuka Bernstein.
Geisha Facial® Appointments
To make an appointment for a Geisha "Bird Poop" Facial at Shizuka New York Day Spa, please request a Geisha Facial® appointment online or call (212) 644-7400.